Vineeta Singh Age, Bio, Wiki, Family, Biography, Husband Name, Net Worth & More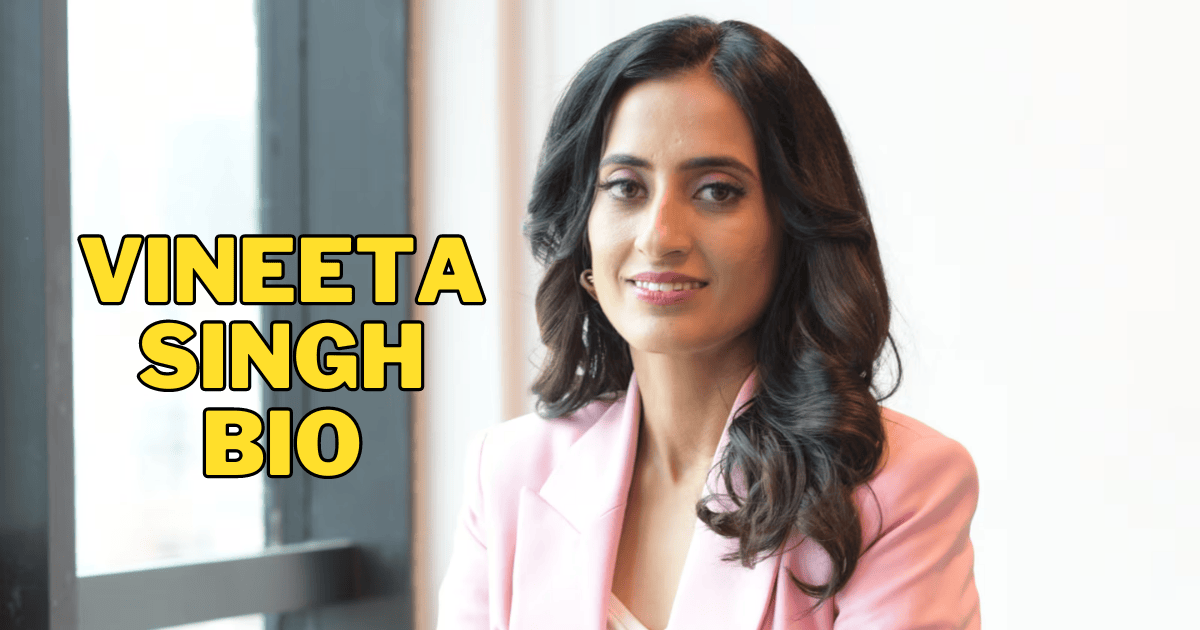 Vineeta Singh is an Indian entrepreneur and CEO and co-founder of Sugar Cosmetics, a popular makeup brand that caters to the diverse skin tones and preferences of Indian women. She is also a shark on the business reality TV show Shark Tank India, where she invests in promising startups. In this blog post, we will learn more about her journey, achievements, and challenges as a woman leader in the beauty industry.
Name
Vineeta Singh
Nationality
Indian
Born
1983
Birthplace
Delhi, India
Religion
Hinduism
Education
Schooling at DPS, Delhi
BTech (Electricals) at IIT, Madras
MBA at IIM, Ahemdabad
Company Founded
SUGAR Cosmetics
Spouse(s)
Kaushik Mukherjee
Children(s)
2
 Vineeta Singh education and early life
Vineeta Singh was born in 1983 in Anand, Gujarat. Her parents were both highly educated and encouraged her to pursue her academic interests. Her father, Tej P. Singh, is a biophysicist at the All India Institutes of Medical Sciences, and her mother holds a PhD. Vineeta completed her school education at Delhi Public School, R. K. Puram in 2001. She then joined the Indian Institute of Technology (Madras) to study electrical engineering. She graduated in 2005 and went on to pursue an MBA from the Indian Institute of Management (Ahmedabad) in 2007.
Also Read- Smriti Mandhana
Career
Vineeta Singh had a passion for entrepreneurship since her college days. She rejected a lucrative job offer from Deutsche Bank after her MBA to start her own lingerie business with another graduate, but they could not raise enough funding for their idea. She then founded her first startup, Quetzal, in 2007, which provided background
verification checks to recruiters. However, the venture failed to scale up in the competitive market.
In 2012, she co-founded Fab Bag, a subscription platform that delivered monthly beauty products to customers. Through this platform, she gained insights into the preferences and feedback of over 200,000 women who shared their beauty profiles with her. This inspired her to launch Sugar Cosmetics in 2015 with her husband and co-founder, Kaushik Mukherjee.
Sugar Cosmetics is a digital-first makeup brand that offers high-quality products at affordable prices for the Indian market. The brand focuses on creating products that suit the diverse skin tones, climates, and lifestyles of Indian women. Some of the popular products of Sugar Cosmetics include lipsticks, eyeliners, mascaras, foundations, and nail paints.
Vineeta Singh has led Sugar Cosmetics to become one of the fastest-growing beauty brands in India. The company has raised over $50 million from investors like L Catterton, A91 Partners, India Quotient, and RB Investments. It has also expanded its offline presence to over 2500 outlets across 130 cities in India.
In 2021, Vineeta Singh became one of the sharks on Shark Tank India, a reality TV show where entrepreneurs pitch their ideas to investors. She joined other prominent investors like Ritesh Agarwal, Kunal Bahl, Nikhil Kamath, and Sanjeev Bikhchandani on the show. She has invested in startups like Zouk, an online marketplace for vegan leather bags and accessories; Flickstree, a video content discovery platform; and The Switch Fix, a sustainable haircare brand.
Also Read – Janhvi Kapoor Hot and Stunning Photos
Vineeta Singh CEO of SUGAR Cosmetics
Vineeta Singh is the co-founder and CEO of SUGAR Cosmetics, a leading beauty brand in India. She started her entrepreneurial journey in 2009 with Fab Bag, a subscription-based beauty discovery platform. In 2015, she launched SUGAR Cosmetics with the vision of creating high-quality makeup products for the modern Indian woman. Under her leadership, SUGAR Cosmetics has grown to become one of the fastest-growing beauty brands in the country, with over 10,000 retail outlets and a strong online presence. Vineeta Singh is passionate about empowering women through beauty and entrepreneurship. She has been featured in various media outlets as one of the most influential women entrepreneurs in India.
Vineeta Singh Net worth
Vineeta Singh is one of the most successful and influential entrepreneurs in India. She is the founder and CEO of Sugar Cosmetics, a leading makeup brand that offers cruelty-free and inclusive products for all skin types. She is also a judge on the popular reality show Shark Tank India, where she invests in promising startups. Vineeta Singh net worth in 2023 is estimated to be around $9 million (Rs. 75 Crores), which is a remarkable achievement considering her humble beginnings and the challenges she faced as a woman in a male-dominated industry.
Awards and achievements
Vineeta Singh has received several accolades for her entrepreneurial success and leadership skills. Some of them are:
– Forbes India W-Power Trailblazers (2018)
– Business Today Most Powerful Women in Business (2019)
– Fortune India Most Powerful Women in Business (2020)
– Economic Times Women's Forum COVID Crusaders Award (2020)
– Outlook Business Women of Worth (2021)
Personal life
Vineeta Singh is a successful businesswoman and the founder of Sugar Cosmetics, a popular makeup brand in India. But who is her husband? His name is Kaushik Mukherjee, and he is also the co-founder and COO of Sugar Cosmetics. He was born in Kolkata and studied at BITS Pilani and IIM Ahmedabad, where he met Vineeta. He worked at Oracle, McKinsey and another company before starting Fab Bag, a beauty subscription service, with Vineeta in 2012. They launched Sugar Cosmetics in 2015 and have grown it to a valuation of US $500 million as of 2022. They have two sons named Vikrant and Ranveer. Vineeta likes to read books and travel in her spare time.
Also Read – Sneh Rana (Cricketer)
FAQs
What is Vineeta singh Age?
Vineeta Singh was born in 1983 in Anand, Gujarat, and grew up in Delhi. Vineeta Singh age is 40 years old as of 2023.
Where does Vineeta Singh live?
Vineeta Singh lives in a lavish home in **Powai, Mumbai** with her husband and two sons.
What is the net worth of Vineeta Singh?
According to various sources, Vineeta Singh net worth is around $9 million (Rs. 75 Crores) as of 2023.